dedicated & licensed professionals
The Water Bore Specialists are a local family business and your answer to repairs, installation and maintenance of water bores across Perth. We specialise in submersible garden bore installation, for residential and commercial water bores and pride ourselves on providing efficient, quality and versatile water wise solutions. Our team are committed to honest service through transparent quotes and genuine advice. With over 200 5-star Google reviews you can trust Water Bore Specialists to give you long-term lasting resolutions. Discover more about our residential and commercial water bore services today.

bore repairs
As Perth's Water Bore Specialists, we're qualified, ready, willing and able to repair and service existing submersible bores and bore wells less than 0.8m deep. We help with testing, diagnosing, repairing, and system testing to identify any problems with our fully equipped service fleet. Need help with your existing water bore? We're here to help. Click here to see our prices.

bore installations
Ready to add free, mineral-rich water to your Perth home or rural property? We have been installing bores for over 20 years and truly are your local water bore specialists. Our depth of knowledge and experience allows us to typically install your bore in just one day, depending on soil condition and the area to be drilled into. If you're considering installing a water bore, you can trust the Water Bore Specialists to make it happen.

commercial bores
Not just for residential Perth water bores, the Water Bore Specialists are here for your commercial projects and properties, too. With the capacity to install, repair and maintain large production bores, transfer water over large distances, with solutions for minimal disruptions to your business, we're the team to trust for your commercial bore. See how a commercial water bore will improve your business. Contact us for a free quote.
frequently asked questions
Can you fix my bore?
Yes we can! We have been repairing bores in Perth for the last 20 years. The Water Bore Specialists can diagnose the problem and repair it often while on site. If it is something bigger than the $99 callout; diagnose; repair then we will quote you a fixed price to continue with the repair.
How much will it cost?
Some typical costs include:
Reset overload: included in $99 callout; diagnose; repair
Prime pump: included in $99 callout
Leak find & repair: included in $99 callout
Reprogram retic controller: included in $99 callout
DOL failed, 1 phase $320
DOL failed, 3 phase $330
Capacitor failed $220
Capacitor failed, prime pump $330
Replace start box, 1 phase $440
Replace 2hp, 1 phase, davey pump $1760
Replace 3hp, 3 phase, davey pump $2310
Replace submersible pump motor $1760 (includes new capacitor)
Replace submersible pump complete $2398
If any jobs are out of the ordinary or bigger than normal, we will inform you first and then proceed to diagnose and quote.
Does it cost anything for you to come out and look?
We charge an initial callout fee of $99 for a full diagnosis which is then deducted from the final invoice after your job has been completed.
Can I do it myself?
Yes you can, excluding some electrical jobs! The team at Water Bore Specialists are happy to talk it through with you on the phone at no cost. We can also come to you and diagnose the issue (at $99) and then discuss how you can repair it yourself.
Can I claim insurance?
Sure! If you have a contents policy that covers fusion and if your pump motor is fused. Most policies have a storm damage clause as well. If your pump is fused we will prepare a fusion quote for you to email to your insurance company. Please consult your insurance company to determine whether you are covered or not.
When can you do it?
Usually the very next day. Please ring or complete a contact form and I will schedule an appointment for as soon as possible. We can also come after hours if needed to diagnose the problem and schedule repairs the next day.
Do I have to be Home?
As long as we have access to your retic controller, meter box, pump controls and bore then we can do the job while you are at work and the team will liase with you over the phone.
Is this a fixed price or will it go up?
All quotes are fixed price. There is only one contingency stipulated, that is if the bore is damaged and we cannot get the pump out of the bore then you will need to get a new bore drilled.
Can you email me a quote?
Absolutely. Usually if you explain the symptoms to the team, we can email you a quote. The quote will show you the various stages of the repair and the price.
How do I book the job?
You can directly email waterborespecialist@gmailcom, complete a contact form through the website or ring us on 0417 927 330.
How much do bores cost?
Typically bores cost around $3000 to $6000. We will give you the best value for money and the right solution for you. Plenty of drillers who are only interested in the short term are happy to sell you something that will not last. I am in the business of trying to install a bore at your home that you are proud to own and will save you plenty of money for 20 to 30 years. Submit a contact form or give us a call to get a quote today.
Can I have one in this suburb?
We service the following suburbs:
Alexander Heights
Alkimos
Ashby
Balcatta
Balga
Ballajura
Banksia Grove
Bayswater
Bedford
Beechboro
Beldon
Burns Beach
Carabooda
Carine
Carramar
Churchlands
Clarkson
Connolly
Coolbinia
Craigie
Currambine
Darch
Dianella
Doubleview
Duncraig
Edgewater
Ellenbrook
Embleton
Girrawheen
Glendalough
Gnangara
Greenwood
Gwelup
Hamersley
Heathridge
Henley Brook
Herdsman
Herne Hill
Hillarys
Hocking
Iluka
Inglewood
Innaloo
Jane Brook
Jindalee
Joondalup
Joondanna
Kallaroo
Karrinyup
Kewdale
Kiara
Kingsley
Kinross
Koondoola
Landsdale
Lockridge
Madeley
Malaga
Marangaroo
Mariginiup
Marmion
Maylands
Menora
Merriwa
Middle Swan
Mindarie
Mirrabooka
Morley
Mt Lawley
Mullaloo
Neerabup
Nollamara
Noranda
North Beach
Nowergup
Ocean Reef
Osborne Park
Padbury
Pearsall
Pinjar
Quinns Rocks
Redcliffe
Ridgewood
Scarborough
Sorrento
Stirling
Tamala Park
Tapping
The Vines
Trigg
Two Rocks
Upper Swan
Wangara
Wanneroo
Warwick
Watermans Bay
Wembley Downs
West Swan
Westminster
Whiteman
Woodvale
Yanchep
Yokine
If your suburb is not listed and is an older suburb, please call to discuss as there may not be good water guaranteed. If it's a newer suburb, please also contact us to see if we can help you.
Will it stain my house?
Some streets have staining water but most do not. The best way for you to check yourself is to go out to your verge and look up and down your street. If you see bore staining elsewhere then there is a chance your bore will stain as well and vice verser.
We have some alternative solutions if your bore does stain:
Sometimes we are able to drill a different style of bore to minimise the stain. This involves using a very short stainless steel screen and costs about $600 more than normal.
You can buy a stain stopper which come with a 100% guarantee to stop the staining.
You can adjust your retic system so that the bore water does not impact on your house and use stain remover if it does.
Where does it go on my property?
We have to back a small truck onto your property with the drill rig on the back. This means that the bore needs to go out the front near your water meter. We do the connection to your retic system and also to your electrical system. The bore is invisible when finished and usually we put it in the lawn.
Do you need to come out and look at my property?
Yes. Firstly we will send you a quote and the entire process to have a look at. Then before we drill the bore, we will meet with you at the property to ensure you understand everything that is going to take place.
Do I have to be home for the consultation?
No. If you are comfortable then we can easily proceed while you are at work. Alternatively we are also happy for you to be home and watch the bore installation.
Can I use afterpay?
Yes, you can! We have numerous payment methods and are happy to discuss them with you. We accept mastercard and visa. We do not ask for a deposit however we would like you to be ready to pay once the bore is installed. If you want to use a multiple instalment payment method then please discuss it with us before we install the bore.
When can you install it?
Usually once we get the final go ahead, we install your bore within the next week. The installation will take a couple of days.
Will my bore pay for itself?
Water bores are a great investment. Typically bores return about 20% per year on capital investment. They pay for themselves in about 5 to 8 years. The other benefits include fantastic lawns and gardens, 3 day a week watering & improvements to your lifestyle.

dedicated professionals
We have been installing water bores in Perth for over 20 years and stand by every bore we install, making us true dedicated professionals. We pride ourselves on providing the best service, along with the best quality products and guarantee an affordable, custom designed bore water system you can count on.

licensed, guaranteed & insured
For the very best water bore installation, repairs and maintenance, only a skilful, high-quality and fully licensed professional will do – that's why we only employ experienced technicians, here at Water Bore Specialists. Every single water bore specialist is certified and insured too for your safety and peace of mind and all our parts are guaranteed for at least 2 years.

24/7 emergency service
Emergencies happen when you least expect them and usually at the most inconvenient time. We understand this, which is why we offer 24-hour emergency water bore services. You can trust that the team at Water Bore Specialists will be there to help you when you need it most.

transparent & honest service
Water Bore Specialists are committed to giving you the best solution possible for your individual situation. We ensure that we communicate thoroughly throughout all stages of the process, give your complete detailed quotes within no hidden costs and we can even walk you through DIY repairs at no cost.
Western Australian owned & operated for over 20 years
For over 20 years, we have proudly operated as Perth's Water Bore Specialists, a 100% family owned and operated Western Australian business. The team have repaired over 3000 water bores for happy customers and have installed hundreds of water bores throughout the Perth metro area.
We're professional, experienced, knowledgeable and dedicated to all that we do and the answer to repairs, installation and maintenance of water bores. Water Bore Specialists are dedicated to completely transparent communication and only installing pumps and parts that we would install in our own homes.
We have a unique mud rotary drilling rig; a self-contained 4WD rig which is small enough to fit into tight areas, through small driveways and under carports. This allows for your water bore to be drilled in the best position possible.
For anything to do with water bores Perth, you need the Water Bore Specialists. Find out more about what we can do for you. Call us today.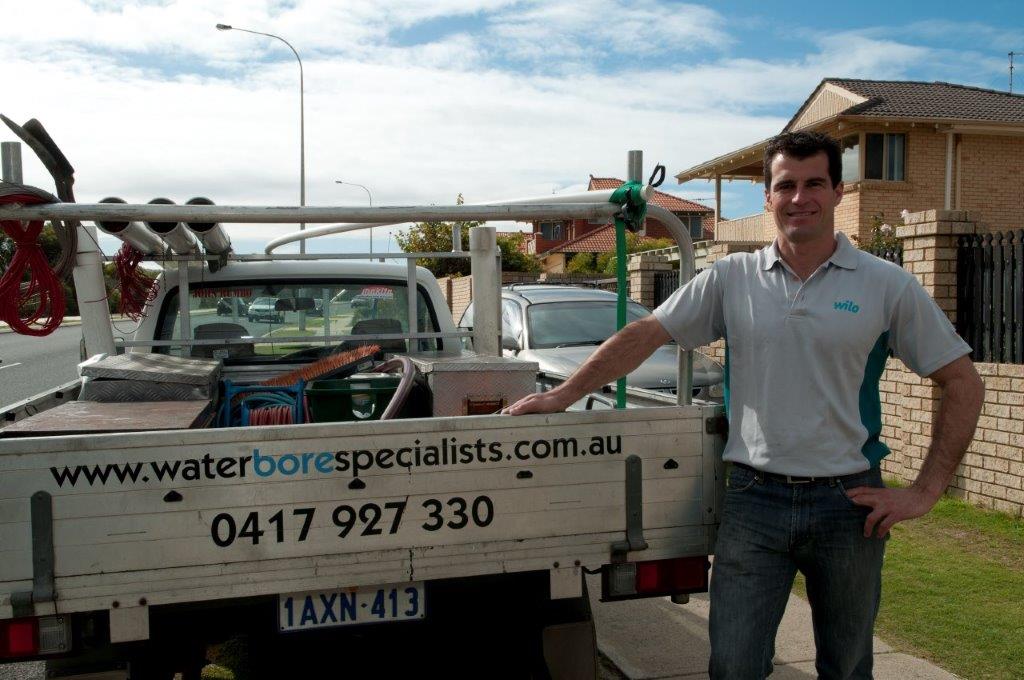 Please pass on my thanks to your staff, especially Graham. You did a fantastic job. The electrician told me it would be weeks before I could get someone to re-drill my bore and you came the next day. Great job.
- Fred Mettam
Thanks Matt. Good job by you and your guys. Clean professional and pleasant to deal with.
- Leone and Andrew Carmichael
Thanks Matt. I appreciate you doing my bore as promptly as you did. The lawn is only 3 weeks old and I was very worried. Thanks for a professional job.
- Jason Duncraig
Matt, it was awesome to work with you. Everything you said, you did and on time. Your email quotes made life easy and the speed you did the repair and the cleanup after made everything good.
- Brian Dean Willerton